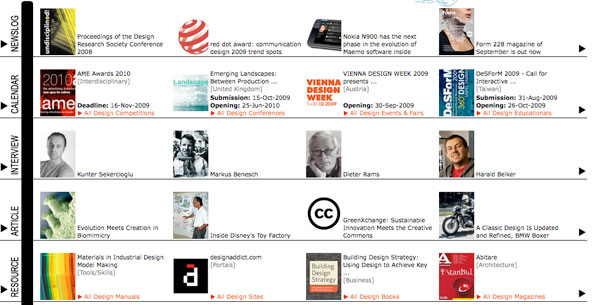 Most designers know that websites can be so over-designed, site visitors may feel lost. They have difficulty knowing where to focus and how to navigate. When users feel "lost" it's not always due to the visual design; sometimes it's the conceptual nature of the site's design.
Conceptual Qualities
The conceptual aspect of site design encompasses the site's purpose, structure and navigation. When the conceptual design is straightforward and logical, site visitors know what to do when they arrive and they understand what the site is trying to communicate.
The graphic above shows the visual navigation on the home page of Designophy, an online publication presenting diverse design content. The navigation is not only well-designed because of its visual elements, but because it is conceptually clear. The structure and navigation are logical.
Categories are displayed in rows, the category label is on the left and the "more" arrow is on the right. The intriguing elements belonging to each category are displayed in between the two ends in both graphic and text. When I come to this site, I know what to do!