About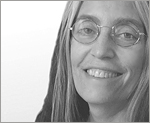 Welcome to Understanding Graphics, where I write about visual language and visual design based on what we know about the human mind and brain. This site is written by Connie Malamed, a consultant, author and speaker in the fields of visual design, online learning and information design. I hope you find the articles here helpful to your design world.
If you're fascinated with visual language and design, then follow me on Twitter and join my Understanding Graphics page on Facebook. You may also want to check out my book, Visual Language For Designers.
Cheers,
Connie
P.S. If you'd like to discuss working together or to have me speak at an event, please use the Contact Form to get in touch.